Meet Santa and ride his Magical Sleigh Ride VR
Welcome aboard! You've been specially selected to help us test out Santa's brand new sleigh!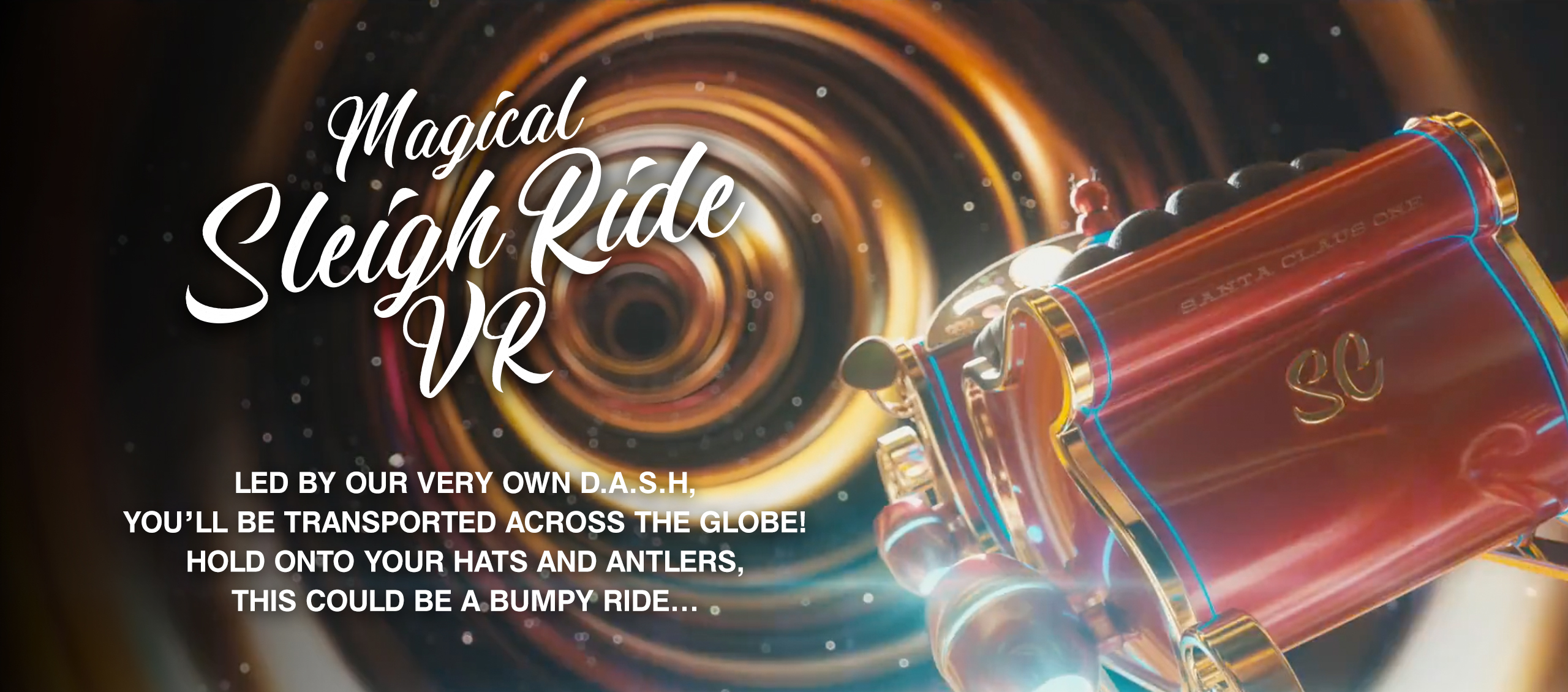 Our Santa experience will fill you with festive cheer!!!

Santa will welcome you to his sleigh lodge on level 3 of the shopping centre. He will show you a safety video and then take you through to the Virtual Reality Sleigh Ride…
Once on board, led by our very own D.A.S.H, you'll be transported across the globe (and even into space!) as we give the sleigh a trial flight before Christmas Eve. Hold on to your hats and antlers everyone, this could be a bumpy ride…
After the ride, the children will chat with Santa for a few minutes and each child will receive a small chocolate gift.
Seating up to 8 people, this virtual reality experience offers a perfect family attraction during the festive period!
Housed in Santa's sleigh lodge on level three of the shopping centre, once aboard, you'll be seamlessly transported into the virtual launch bay using our HD VR headsets. Your intrepid journey will soon begin, along with the incredible range of motions our sleigh has to offer; two front fans and surround sound for a fully immersive 4D experience. Tilting forwards, backwards and side to side, the sleigh's movements have been specially designed to mirror those of the full 360 degree experience, creating a truly festive feast for the eyes!
This will hold up to 8 riders. for example, up to 4 adults and 4 children, or up to 6 adults etc.
COVID SAFE
The ride has also been treated with ZOONO anti-viral coating to protect our visitors. The headsets are cleaned using anti-viral wipes between uses as well.
COVID GUARANTEE
If the centre or the ride has to close due to a COVID-19 lockdown or similar, we will guarantee your money back for your ride ticket. Plus you can take optional cancellation insurance to cover most eventualities.
TIMINGS
The complete Santa experience is around 15 minutes. Including the Virtual Reality sleigh ride that lasts for three minutes. Santa will be your host, to ensure the children get time to chat with him.
PRICES
£7.50 per person (children and adults)
Please note that all visitors must purchase a ticket to gain entry in to the Santa Experience.
WHAT TO EXPECT
Please ensure you arrive on time for the Santa experience, as late entry may not be possible due to demand.
The Santa Experience is located on level 3 of the shopping centre near the green car park doors.
You will be greeted by Santa himself and he will take you to watch the 2 minute safety video for the sleigh ride. You will then board Santa's sleigh. The VR (virtual reality) sleigh ride requires riders to wear a VR headset. Very young riders that cannot wear the headset, can ride at the front of the sleigh and watch the content on a TV screen. This also applies to riders that suffer from motion sickness, vertigo, seizures or epilepsy. The sleigh ride lasts around 3 minutes and takes you on a journey around the world. Once that ends, Santa will spend a few minutes talking to the children and will give each child a small chocolate gift.  The total planned experience time is 15 minutes for each booking.
Whilst there is not an age limit for the ride, each person must be able to support themselves independently as the ride moves. Babies can ride on an adults lap but for safety that adult will have to use the screen rather than the VR headsets.
Wheelchair users must transfer to the ride to gain the full ride experience. For more details please contact vr@westorchards.co.uk
PLEASE NOTE that Santa now meets guests rather than the elves. This has changed since the video was shot.