On Saturday 11 November, West Orchards Shopping Centre will fall silent as 4000 poppy petals are dropped in memory of people lost in conflicts across the world.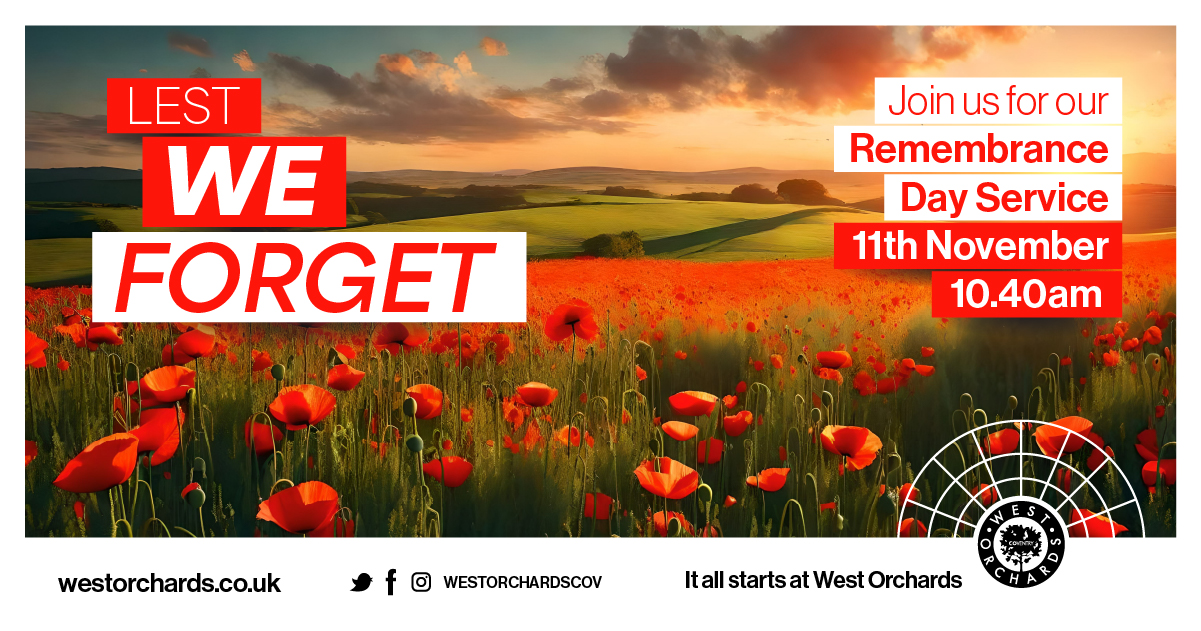 Armistice Day will be commemorated at the stroke of the eleventh hour, on the eleventh day of the eleventh month, with a two-minute silence.
Year upon year, the nation expresses continued and unwavering support for The Royal British Legion's charity work with the Poppy Appeal. Highlighting the need for help for the current serving generations in the Armed Forces and their families, today and for the rest of their lives.
West Orchards Shopping Centre is proud to continue to support this important work.
The first official Legion Poppy Day took place in Britain on 11 November 1921 and was inspired by John McCrae's poem "In Flanders Fields"
The commemorative service, supported by West Orchards Shopping Centre, The Royal British Legion and Coventry City Council is a moving, reflective and poignant reminder to city shoppers, workers and residents, of those who gave their lives in service to their country.
The event begins at 10.45am, in the yellow corner of level 3, with an introductory speech from West Orchards' Manager Andy Talbot and a speech from the Lord Mayor, Councillor Jaswant Singh Birdi. This is followed by prayers led by the Reverend Richard Hibbert from Holy Trinity Church.
At 11am a bugler from the Coventry Corps of Drums will sound the Last Post, which heralds the two minutes silence, during which time thousands of poppy petals will be released to fall gracefully from the domed roof of the shopping centre.
The British Legion will then deliver the Exhortation and Kohima in remembrance of those who lost their lives in battle.
Andy Talbot, director of the West Orchards Shopping Centre said: "The Poppy Appeal is vital to help pledge support for those who have fought for their country and served in the British Armed Forces. It remains a simple yet powerful service in which shoppers and visitors to the city can pause for thought to remember anyone who fought and gave their lives in battle, whether the First and Second World Wars or indeed in recent and continuing conflicts."
Representatives from Coventry City Council, including Councillors, local churches, community groups and the Royal British Legion will all be in attendance.
The West Orchards Poppy Appeal begins on the 27 October.